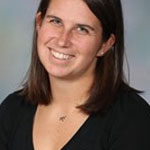 Niagara University Assistant Coach, 5th year college coach, played collegiately at Holy Cross where she was Patriot League Goalie of the Year and All-Patriot League 1st Team Selection
Amy Martin is entering her second season as an assistant coach at Niagara.
Prior to Niagara, Martin spent two seasons as an assistant coach at Kennesaw State University in Kennesaw, Ga. from 2014-16. Martin's primary responsibilities were coaching the goalies and developing the defensive game plan, as well as, being the main point of contact for incoming student-athletes.